Ajax AWG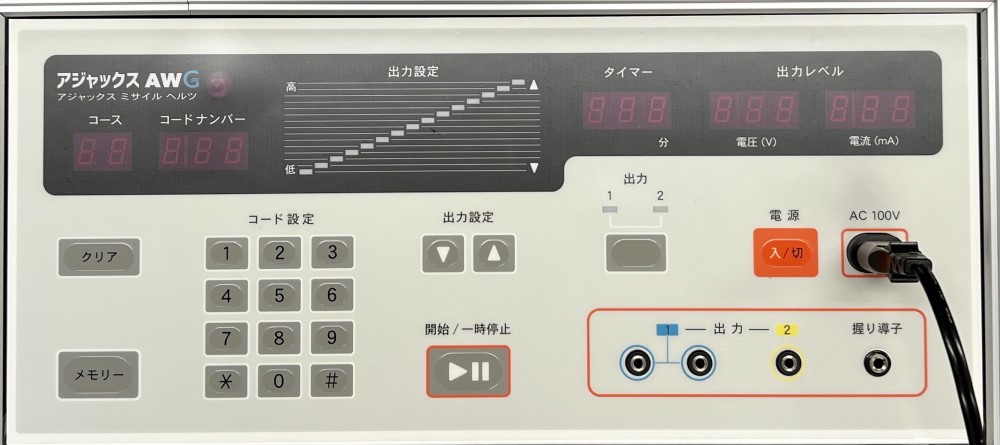 What is "Ajax AWG" (Advanced Wave Generator)?

AWG is an acronym for Arbitrary Waveform Generator.

AWG is a medical device that began in 1971 when a team of seven molecular biologists, physicians, veterinarians, physicists, scientists, and bacteriologists from the United States, Canada, and Japan formed a team in the United States to study artificial insemination in cattle.

Later, with the cooperation of 23 doctors, university professors, medical and pharmaceutical scientists, it took more than 40 years to develop and complete the development of this medical device (Class II).

The AWG is applied to the body with two or four pads and irradiates a bunch of elementary particles (electrons and electrons) at a rate of about 6 Beijing 2500 trillion per second.


Excerpt from the book
"Ajax AWG" is a faithful reproduction of the AWG prototype machine (Ajax Missile Hertz), which was said to be a mirage. It is a low-frequency therapy machine that uses 111 special frequencies said to be good for cells, fundamentally different from other AWGs that use 69 different frequencies. It is compact and portable for home use, and provides pain relief, massage, and other benefits. We hope you and your family will make use of it to maintain good health and well-being.
The low frequency waves gently transmitted from the pad and ceramic head activate cells for comfortable care.
The pad can be applied directly to the skin with adhesive gel, and the ceramic head can also be used to pinpoint areas of concern on the body. The included remote control enables simple operation even when the user is away from the main unit.
Designated controlled medical device Certification
No. 228AFBZX00108000
Ajax AWG Specifications
| | |
| --- | --- |
| Type | Machine 78 Home-use electrotherapy apparatus |
| Name | Home-use low-frequency treatment apparatus Ajax AWG |
| JMDN code | 70986000 |
| Medical device certification number | 228AFBZX0O108000 |
| Size | Width 400 x Depth 300 x Height 130mm |
| Weight | 5.45kg |
| Voltage | AC100V(50/60Hz) |
| Power consumption | 8W |
Precautions
Please read the "Instruction Manual" carefully before use and use the product correctly.
If you are sick , have any physical abnormality, are pregnant, or are under medical treatment, be sure to consult with a physician before using this product.
Never use the product with medical electronic devices such as pacemakers, artificial heart lungs, electrocardiographs, etc., as they may cause malfunction.
When used by infants, the elderly, the disabled, or the sick, always use caution with the voltage used.
Do not use the product for purposes other than its intended use, such as for pets.
Do not immerse the product in water or splash water on it.
Unplug the power plug when not in use.